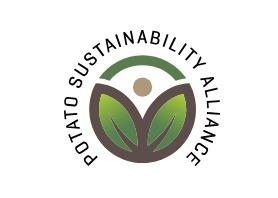 The Potato Sustainability Alliance (PSA) announced in August 2023 the launch of its updated sustainability program, introducing a comprehensive framework and new self-assessment tool that has been designed by industry stakeholders to define, measure, and advance sustainability. The new framework defines key focus areas in sustainability, supported by commitments and tools that drive continuous improvement across the industry. Focus areas include greenhouse gas (GHG) emissions, water stewardship, food waste, soil health, farmer prosperity, biodiversity, and integrated pest management (IPM). 
Annually, over 550 growers across the U.S. and Canada participate in the PSA Program by completing a self-assessment to measure and benchmark the performance of their sustainability practices, share insights, and identify areas for improvement. Earlier this year, PSA adopted Syngenta's Sustainable Outcomes in Agriculture (SOA) Standard and Cropwise Sustainability (CWS) app as a new self-assessment tool.  
"Potato growers are working with our Alliance partners to advance a sustainable potato industry," said John Mesko, PSA Executive Director. "We are creating meaningful benchmarks backed by data to help communicate the good things already happening on potato farms, and also to help farmers with their efforts to improve."
The SOA Standard and CWS app offer a simple and credible self-assessment, benchmarked to the Sustainable Agriculture Initiative Platform's Farm Sustainability Assessment, that evaluates performance against globally recognized best practices, meets current industry requirements, and aligns with PSA Program focus areas. PSA has partnered with Syngenta to customize the CWS app, adding program-specific questions and functionality to enable seamless data-sharing and enhanced reporting for participating growers and PSA members.
"Our goal is to streamline the data collection and reporting process by using tools that align with our program framework and are already widely used and recognized within the industry," said Natalie Nesburg, PSA Program Manager. "Our Program is designed to meet our members' sustainability reporting needs, so by collectively adopting and utilizing tools within our program, we can work towards shared objectives while avoiding duplication of efforts in the process." 
To engage with the PSA Program, growers and industry members are encouraged to visit the program website to learn more about how to get involved in advancing potato sustainability at potatosustainability.org/the-psa-program/.
About the PSA
The Potato Sustainability Alliance consists of growers, supply chain partners, non-profit organizations, and advisors working together to improve the economic, environmental, and social aspects of potato production in the United States and Canada. In conjunction with our partners, we support the identification and adoption of sustainable production practices and meet consumer and market expectations by benchmarking the farm-level sustainability performance of potato production. For more information about the Potato Sustainability Alliance and its members, visit potatosustainability.org/.