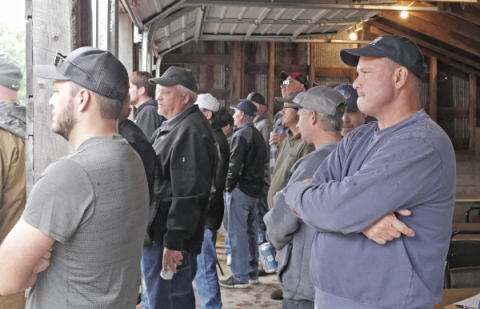 It's potato harvest time in Michigan, and that includes on-farm trial plots for new varieties being tested by the Michigan State University Extension. Growers and other potato industry members were invited to a pair of on-farm field days and the Michigan Potato Industry Commission's (MPIC) Variety Release Committee's annual Box Bin Trial Tour last week.
On Monday, Aug. 21, MPIC and MSU Potato Specialist Chris Long hosted growers at a trial plot at Styma Farms near Posen for the Rogers City Variety Plot Tour. There, they examined russets, chip varieties, reds, and yellows. MPIC Executive Director Dr. Kelly Turner also shared updates.
On Aug. 22, it was on to VanDamme Farms near Escanaba for the annual Upper Peninsula Field Day. Rain didn't damper the turnout – or perhaps even aided it – as a strong number of attendees listened to updates from James DeDecker, director of MSU's Upper Peninsula Research and Extension Center, Michigan Seed Potato Association Director Damen Kurzer, Long, and Turner.
Long showed off some freshly dug potatoes from the trial plot at VanDamme Farms. The feedback he got from the attending growers provided clear direction.
"I feel the growers clarified their need of varieties with earlier maturity characteristics similar to Atlantic and Pike," Long said. "They further reinforced the importance of chip quality, higher specific gravity, and yield potential. The processing industry reinforced the importance of varieties with smaller tuber size profiles, indicating their largest sales are in the 1- and 2-ounce bag categories. 
"The event reflects the collaborative nature of this process. Research (MSU), MPIC, seed growers, MSPA, growers and processors are participating in the variety development process – and chocolate-covered Nutter Butters are critical to having successful event."
Variety Release Committee Box Bin Trial Tour
More than 20 growers and industry professionals attended the MPIC Variety Release Committee meeting and Box Bin Trial Tour at the Montcalm Research Center Aug. 24. The event even attracted a participant who grows potatoes and runs a storage operation for multiple growers in Germany. The meeting kicked off with Dr. Dave Douches providing an update on diploid potato breeding and a discussion on the benefits to the potato industry followed by a pathology report from Dr. Jaime Willbur.
"Joe Coombs and I showed some tuber samples from the diploid agronomic trial that is part of the USDA-SCRI Potato 2.0 project," Douches said. "These tubers demonstrate that the size and yield of diploid potatoes can equal or better our cultivated tetraploid potatoes. These results indicate that diploid breeding should continue forward with a high probability of success."
The group then examined potato samples from the Montcalm Research Center box bin variety entries, the SNAC Trial plantings and bulk plantings at Sackett Potatoes and Sandyland Farm with in-depth discussion on positive and negative traits of each variety.
Seed grower Rodney Krueger, chair of the Variety Release Committee, said: "Grower participation in this event is of the utmost importance to ensure that growers get the varieties that we need to stay sustainable."