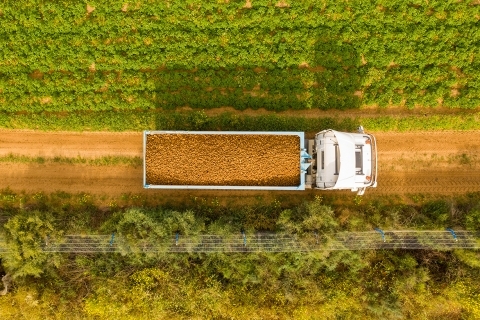 Most growing areas in Michigan received 2-3 inches of rain late last week. More rain is in the forecast this week. Harvest has been progressing quickly, but growers need another good week to wrap up. The chip potato business has been quiet.
The transition from field delivery to storage contracts appears to be a little behind schedule. The delay has given storage chip potatoes in several growing regions more time to grow, resulting in larger potatoes and larger yields. Growers may see contract volume reductions next year.
North American Potato Market News (NAPMN) expects U.S. growers to produce 436.60 million cwt of potatoes during 2023. That is 37.86 million cwt more than they produced in 2022, a 9.5% increase. The forecast is based on early October harvest reports. We increased our total production estimate by 4.80 million cwt since our September forecast. The largest increases came in Idaho and Washington, though NAPMN also raised production estimates for Michigan, Colorado, Oregon, and Wisconsin. Those increases were partially offset by a reduction in Maine's crop estimate. In general, harvest conditions have been favorable across the country. Some growers have finished digging this year's crop. Most others will finish within the next week.
U.S. packers shipped 1.520 million cwt of table potatoes during the week ending Oct. 7. That is up from 1.421 million cwt shipped a year earlier. Michigan packers shipped 15.125 cwt of potatoes during the week ending Oct. 7. There were no reported shipments during the same week in 2022. Last week's Michigan shipments were 100% russets.
Wisconsin packers are selling size A russet potatoes in 10-pound bags for mostly $12-$13 per 50-pound bale, unchanged from last week. They are selling russet 40-70 count cartons for mostly $15-$16 per 50-pound box, unchanged from a week ago. The weighted average shipping point price for Idaho Russet Norkotahs is $18.29 per cwt, down from $18.33 per cwt last week.
Wisconsin packers are selling 10/5-pound bales of size A yellow potatoes for mostly $16-$16.50 per bale, down from$16-$17 per bale a week ago. They are selling 50-pound cartons of size A yellow potatoes for mostly $16-$16.50 per 50-pound box, down from $16-$17 per 50-pound box last week.
– Report by North American Potato Market News