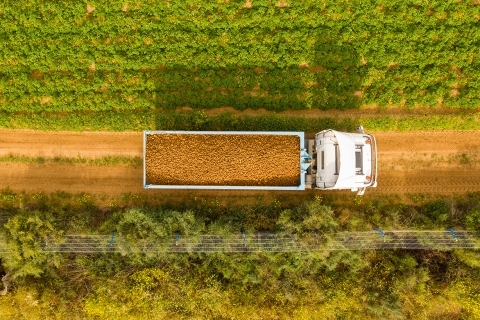 Steady chip potato movement continues. Chip companies continue to run almost exclusively on contract potatoes. Michigan's storage chip potato supplies are cleaning up, though some potatoes are going out of condition before they can be used. Good weather has allowed growers to plant approximately two-thirds of the central Michigan potato crop.
USDA reports indicate that new-crop chip potato movement is running ahead of the 2021 pace, with season-to-date shipments up 13.7%. At 448,500 cwt, Florida's chip potato shipments are 8.9% short of 2021 movement during the same timeframe. Shipments from the Southwest region (AR, OK, TX) are running 57.1% ahead of last year's pace, at 415,300 cwt. The West Coast region (AZ, CA, NV, OR, WA, HI) has shipped 291,200 cwt of new crop chip potatoes so far this season, up 12.1% from a year earlier.
US packers shipped 1.595 million cwt of table potatoes during the week ending May 14, 2022. That is down from 1.668 million cwt a year earlier. Michigan packers shipped 36,900 cwt of potatoes during the week ending May 14, 2022. That is up from 30,000 cwt during the same week in 2021. Last week's Michigan shipments were all Russets.
USDA has stopped reporting prices for Michigan as the state's shipping season winds down. Wisconsin packers are selling size A Russet potatoes in 10# bags for mostly $10.50-$11.00 per 50# bale, unchanged from last week. They are selling Russet 40-70 count cartons for mostly $18.00-$20.00 per 50# box, up from $18.00-$19.00 per 50# box a week ago. The weighted average shipping point price for Idaho Russet Norkotahs is $22.21 per cwt, up from $21.74 per cwt last week.