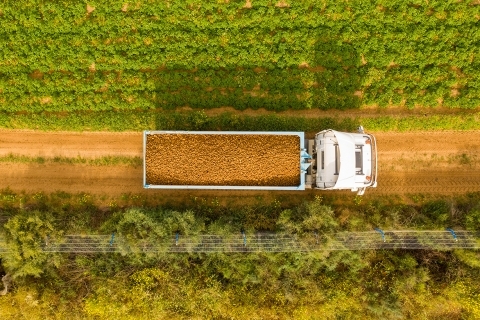 Canada reports that it had 20.08 million cwt of potatoes in storage on June 1. That is 5.18 million cwt more than the year-earlier inventory, a 34.8% increase. The June 1 stocks are the largest for this time of the year since 2018. They include a record 7.67 million cwt of potatoes located in PEI, up from 4.27 million cwt last year. Quebec and Ontario also have record large June 1 inventories, at 2.93 million cwt and 1.32 million cwt, respectively. The Ontario stocks include 1.16 million cwt of chip potatoes, also a record. At the May usage rate, Ontario's chip potatoes would last through July 19. That will likely limit the demand for chip potato imports this summer.
May US chip potato shipments exceeded 2021 movement by 1.4%, on a weekly basis. May had four weeks in 2022, versus five weeks in 2021. The weekly shipping rate during May increased in Wisconsin (+16.9%), Florida (+30.6%), and New York (+11.7%). In contrast, May shipments fell short of the 2021 pace in Michigan (-11.0%), the Rocky Mountain Region (-17.3%), Maine (-4.1%), and the Red River Valley (-36.5%). US chip potato movement, season-to-date through May 31, is running 2.2% behind of the 2020/21 pace.
US packers shipped 1.326 million cwt of table potatoes during the week ending June 4, 2022. That is down from 1.444 million cwt a year earlier. Michigan packers shipped 31,400 cwt of potatoes during the week ending June 4, 2022. That is up from 21,900 cwt during the same week in 2021. Last week's Michigan shipments were 98.6% Russets and 1.4% Round White potatoes.
Wisconsin packers are selling size A Russet potatoes in 10# bags for mostly $12.00 per 50# bale, up from $11.00-$12.00 per 50# bale last week. They are selling Russet 40-70 count cartons for mostly $19.00-$21.50 per 50# box, unchanged from a week ago. The weighted average shipping point price for Idaho Russet Norkotahs is $22.94 per cwt, up from $22.69 per cwt last week.