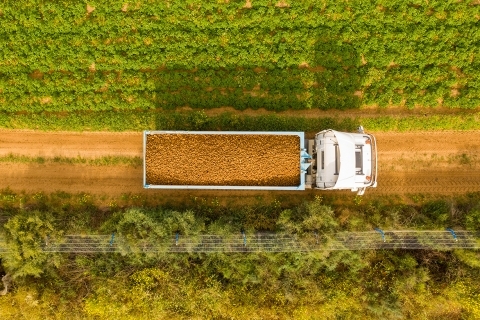 The chip potato market is quiet. There are plenty of potatoes available. Growers in Southwest Michigan started digging last week. Reports indicate that early yields and quality are good. Growing conditions in the state have been favorable. It has been raining every three or four days. Harvest is now underway in Ohio.
Through the week ending July 22, total new-crop chip potato movement has matched the 2022 pace. Florida's shipments are running 20.7% ahead of year-earlier movement, while North Carolina has shipped 11.8% more potatoes. Shipments from the West Coast region are running 11.8% short of last year's pace. Chip potato movement from the Southwest region is up 14.4%, while shipments from the Mid-Central region are down 8.9%.   
U.S. packers shipped 1.464 million cwt of table potatoes during the week ending July 26. That is up from 1.297 million cwt shipped a year earlier. Michigan's reported shipments totaled 31,700 cwt during the week ending July 26. That is up from 25,600 cwt during the same week in 2022. Last week's Michigan shipments were 100% russets.
Wisconsin packers are selling size A russet potatoes in 10-pound bags for mostly $15-$16 per 50-pound bale, unchanged from a week ago. They are selling russet 40-70 count cartons for mostly $30-$34 per 50-pound box, also unchanged. The weighted average shipping point price for Idaho Russet Burbanks is $39.89 per cwt. That is down from $40.02 per cwt a week ago.
Virginia packers are selling 50-pound sacks of Size A round white potatoes for $21 per sack, unchanged from last week. They are selling 50-pound round white chefs for $26 per bag, also unchanged.
– Report by North American Potato Market News