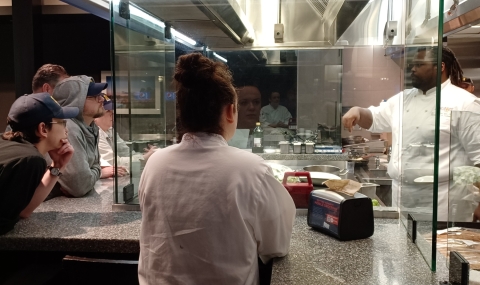 With an enrollment of more than 50,000 students, the University of Michigan's residential dining team has a lot of mouths to feed.
Luckily, university foodservice teams like Michigan's have plenty of cost-effective and healthy potato products to help them do the job.
On Oct. 26, representatives from Potatoes USA – the marketing arm of the U.S. potato industry – visited Ann Arbor to work with the foodservice staff on food trends and menu preparation, as well as perform a dinnertime "takeover" of one of the campus dining halls to connect with students.
In the morning, about a dozen members of Michigan's dining staff joined Potatoes USA Culinary Director RJ Harvey, Foodservice Manager Jane Foreman and chefs Vince Armada and SyEnna Hackbarth, who were in from the Potatoes USA headquarters in Denver. Also joining the group was Michigan Potato Industry Commission Marketing & Communications Manager Zeke Jennings, who helped supply locally sourced potatoes for the event.
Harvey and Foreman spoke about current food trends among varying demographics, including noting that Latin- and Asian-inspired flavor profiles tend to take precedent among younger consumers. They also detailed all the different varieties of potatoes and best ways they can be utilized, as well as all the nutrition value potatoes bring, such as being a good source of potassium, Vitamin C, iron, fiber and lean protein.
Then it was on to the kitchen, where Harvey demonstrated several ways to get creative with potatoes, whether fresh, frozen or dehydrated. Due to ongoing labor shortages in foodservice, Harvey stressed how fast and effective frozen and dehydrated potatoes can be when preparing meals.
Harvey then turned the creativity over the Michigan dining staff, which he challenged to create new dishes of their own utilizing potatoes. With russets, reds, yellows and special blue potatoes – which were bred and grown at rival Michigan State University – to work with, the staff members took full advantage of the opportunity with dishes such as a Mediterranean salad that featured fried potato croutons, potato queso dip and blue potato chips, mashed potato-stuffed mushrooms, and toast topped with avocado-potato mash.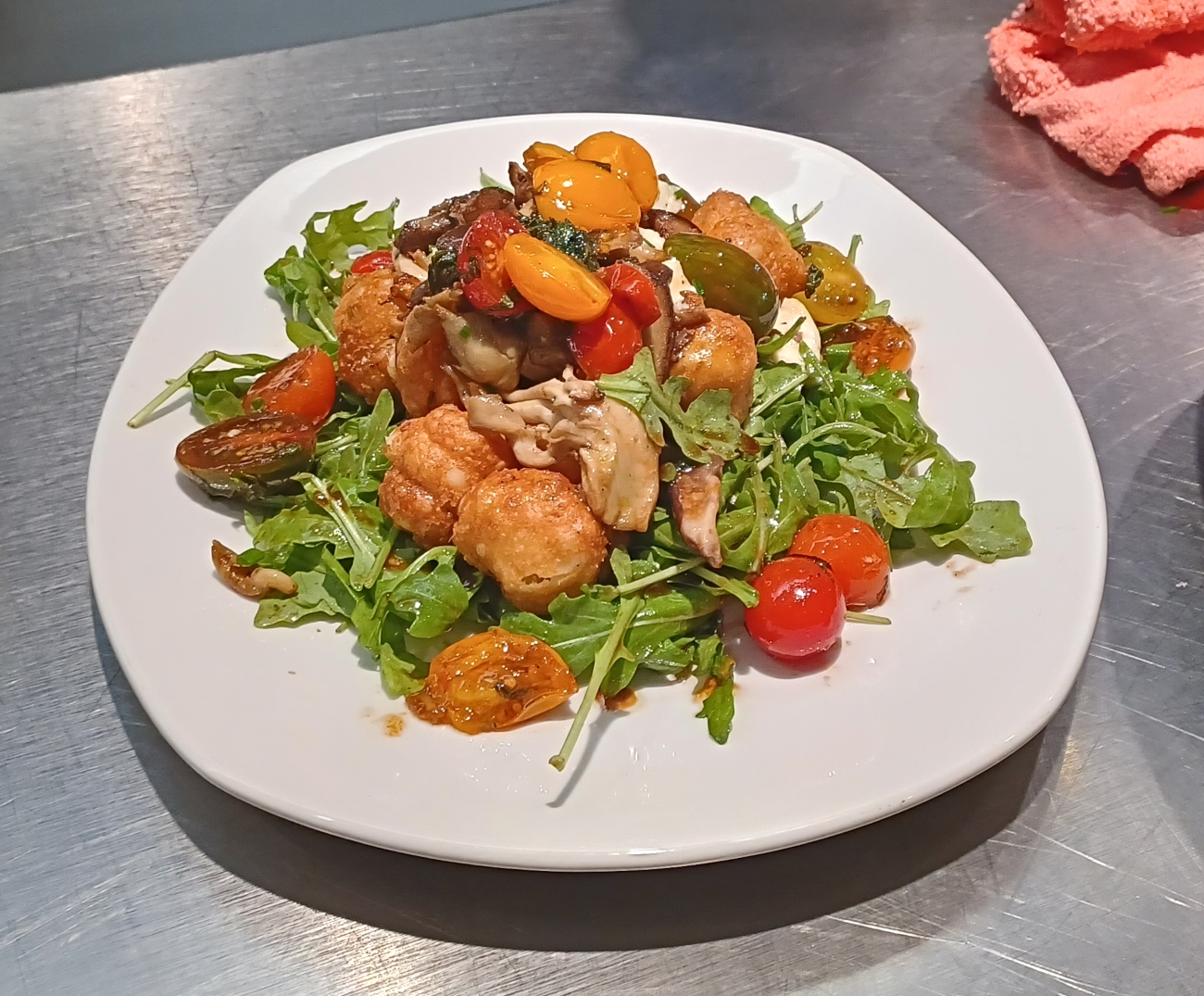 The Potatoes USA team and the Michigan dining staff then moved on to the second part of the day: the potato takeover of the East Quad dining hall.
Students arriving to the dining hall received potato swag, such as potato pulp-infused lip balm and stickers, while some of the students even took home the raw potatoes on display. They also were greeted with nutritional information detailing how potatoes are nutrient-dense vegetables.
Once inside the dining hall, menu items included pot roast with potato pierogies, loaded potato grilled cheese, kale potato enchiladas, herbed potato flatbread pizza, cherry chicken with roasted potatoes and a variety of potato salads. For dessert: potato gelato. There even was a beverage special: potato cold brew, which was a big hit with coffee drinkers.
In all, about 1,500 students enjoyed the potato takeover. They continually cited the pierogies, cold brew and gelato among their favorite items.
University of Michigan Executive Chef of Residential Dining Frank Turchan is aware of opportunities potatoes offer his shorthanded staff to be creative, yet cost- and time-effective in preparing hearty, healthy fare for students. It is the second time Turchan has invited Potatoes USA reps to Michigan's campus for a "takeover."
Turchan is a big proponent of sourcing locally produced foods as much as possible and expressed excitement to what the Michigan potato industry has to offer.
"We try to keep things within 250 miles," Turchan said.
The Oct. 26 event was the fifth such university takeover Potatoes USA has done in the past three years. Including the previous stop at Michigan, there also has been events at Michigan State University, Yale University and Cornell University.