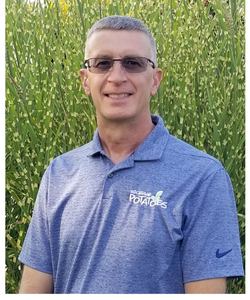 Chris Long's title is potato specialist, but he sees himself as a servant of the industry by way of research.
As the leader of Michigan's Potato Outreach Program, Long is a conduit between results of the potato research and breeding community and the folks who are in the business of growing potatoes for consumption. He and his staff do this through dozens of on-farm variety trials each year, as well as cooperation with national trials. Long's primary goal is identifying varieties that grow well in Michigan's climate, have resistance to key diseases, pests, and stresses, and – and here's a big key – are appealing to consumers.
Long's trial research results can be found in an online potato variety database at msupotato.medius.re. He can be reached at longch@msu.edu. His MSU profile page can be found here.
Q: Could you describe the primary goal of your job, and how long have you been doing it?
Chris Long: I have answered this question in several ways over my 23 years of serving as the potato specialist in Michigan. In 2001, I would have said my primary goal is to apply research to real world agriculture. More recently, in the decade prior to Covid, I would have said my program's mission is to cultivate the potato industry through applied collaborative research. Now, post-Covid, I would say my program's mission is serving through research.
Q: What variety-related developments or new data are you most excited about? 
I am most excited about a functional system of variety development, evaluation, and commercialization. Yes, there are individual varieties that I am currently excited about, but this is a temporal process and varieties come and go. My program is always trying to commercialize something better. The bigger system is what is special to me. The "variety development diaspora" did not begin with me, but I have been fortunate to join in a state and national process that really gets me excited. I have been able to play a role in the growth, molding and shaping of this process and I love it. This process energizes the "why" (increase the profitability of potato growers and processors) of what my program does. I think I could write a book about this entire subject.
Q: What is your top goal for the next 12 months?  
My 2023 field season is full of on-farm variety trialing and climate resilience work. I want to keep moving varieties through the commercialization pipeline working to benefit the industry. 
Q: If you had to pick the biggest change in the Michigan potato industry since you've been a part of it, what would it be? 
Grower and processor operational consolidation and increased costs of production.
Q: Any predictions or wishes for the Michigan potato industry for the next five years?
That Michigan State University can be a part of the solution for Michigan potato producers and processor in meeting sustainability and regenerative agriculture demands on their operations for the next decade. 
Q: What is something about you that most people probably don't know?
I am an only child.
Q: What do you do in your spare time for fun?
I love serving at my church, spending time with my wife and family at any of the Michigan Great Lakes, landscaping my house, and doing DIY projects.