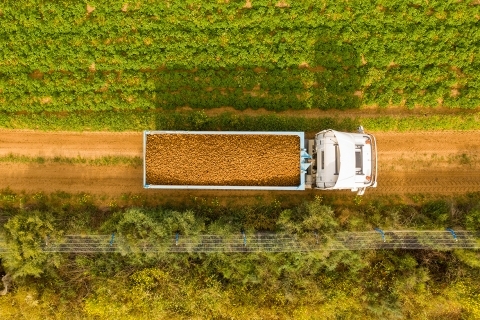 Chip potato markets are quiet. Supplies are plentiful despite some quality issues with potatoes from North Carolina. It will take at least another week to clean up storage potatoes from the 2020 crop. SW Michigan chip potatoes should be ready to harvest by July 25, but chip companies may need to clean up potatoes from earlier growing areas before they will show much interest in the Michigan harvest. That could back up supplies during the summer months and through the 2021 harvest.
Last week's heavy rains across Michigan drowned out low spots in fields and leached nutrients out of the soil. Crops will need supplemental fertilizer to achieve their yield potential and reach appropriate solids levels.
USDA reports that growers in the 13 reporting states planted 943,000 acres to potatoes in 2021. That is 22,000 acres more than they planted in 2020, but 23,300 acres less than the 2019 acreage in the same states. Growers in four states, including California, Colorado, Michigan, and Wisconsin actually planted fewer potatoes than they did in 2020.
USDA puts Michigan's 2021 potato area at 47,000 acres, down from 48,000 acres for the 2020 crop. That reduction apparently is the result of disappointment with 2021 chip potato contract prices and with the pace of chip potato movement from the 2020 crop. High prices for corn and soybeans offered producers attractive alternatives to growing potatoes.
US packers shipped 1.597 million cwt of table potatoes during the week ending June 26, 2021. That is down from 1.657 million cwt a year earlier. USDA did not report any Michigan table potato shipments for the week ending June 26. cwt of potatoes during the week ending June 19, 2021. Year-earlier shipments from the state totaled 30,400 cwt.
Wisconsin packers are selling size A Russet potatoes in 10# bags for mostly $8.00-$8.50 per 50# bale, unchanged from last week. They are selling 40-70 count Russet count cartons for mostly $16.50-$17.00 per 50# box, up from $15.00-$16.00 per box a week ago. The weighted average shipping point price for Idaho Russet Burbanks is $15.17 per cwt, up from $15.00 per cwt last week.
Pricing for Yellow and Round White potatoes in eastern growing areas is not available at this time, due to a lack of supplies. North Carolina is not yet reporting enough shipments to establish market pricing.