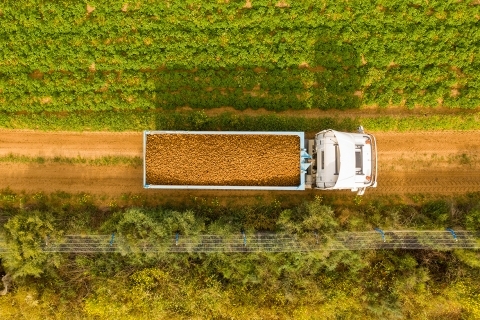 Chip potato supplies are tight. Growers who are able to dig are going as hard as they can. Supplies are likely to be limited for at least another week when the harvest moves north. The SW Michigan crop is in good condition and yields are a good solid average. Harvest conditions have been a little wet, but not too hot during the past few weeks. Growers in central Michigan could start digging this weekend. Reports indicate that Wisconsin's chip potato crop is in excellent condition, though it is a little behind. Early harvest could begin in Wisconsin by next week.   
Through the week of July 23, new-crop chip potato movement has been running 28.2% ahead of the 2021 pace. Florida's shipments are running 3.3% behind year-earlier movement, while North Carolina has shipped 19.0% more potatoes. Shipments from the West Coast region are running 30.8% ahead of the last year's pace. Chip potato movement from the Southwest region is up 27.9%, while shipments from the Mid Central region are up 112.7%.   
US packers shipped 1.244 million cwt of table potatoes during the week ending July 23, 2022. That is down from 1.602 million cwt a year earlier. Michigan packers shipped 25,600 cwt of potatoes during the week ending July 23, 2022. That is up from 10,200 cwt during the same week in 2021. Last week's Michigan shipments were all Russet potatoes.
The weighted average shipping point price for Idaho Russet Burbanks is $39.76 per cwt, up from $35.73 per cwt last week.