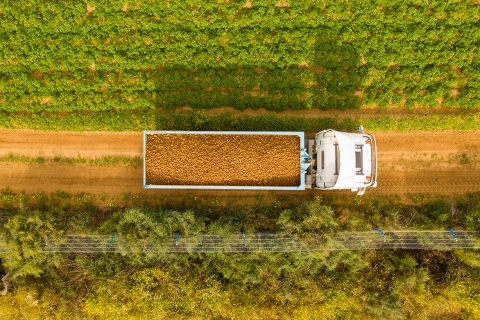 There is a shortage of chip potatoes. Some growers in SW Michigan have started digging to fill the supply gap. It is a week or two earlier than they had planned. Reports indicate that early yields are fair and quality is good. Harvest should be in full swing in SW Michigan by August 1 and in central Michigan by the second week of August. Harvest is winding down in North Carolina, Florida, and Georgia. Harvest is underway in Illinois, Ohio, Indiana, Virginia, New Jersey, and Maryland.  
Canada growers planted 385,130 acres to potatoes this year. That is 242 more acres than they planted during 2021, a 0.1% increase. Increases in potato acreage for the frozen processing sector accounted for most of the growth. At 37,180 acres, Ontario growers planted 1,145 fewer acres of potatoes this year. Quebec's potato area increased by 3,862 acres, to 50,750 acres.
US packers shipped 1.406 million cwt of table potatoes during the week ending July 16, 2022. That is down from 1.692 million cwt a year earlier. Michigan packers shipped 26,900 cwt of potatoes during the week ending July 16, 2022. That is up from 8,800 cwt during the same week in 2021. Last week's Michigan shipments were all Russet potatoes.
USDA has discontinued reporting prices for Wisconsin potatoes as the shipping season ends in that state. The weighted average shipping point price for Idaho Russet Burbanks is $35.73 per cwt, up from $31.68 per cwt last week.
Virginia packers are selling 50# sacks of Size A Round White potatoes for $18.00 per sack, down from $19.00 per sack a week ago. They are selling 50# Round White Chefs for $20.00-$22.00 per bag, down from $22.00 per bag last week. USDA has discontinued reporting prices for North Carolina Round White potatoes as the harvest winds down in that state.