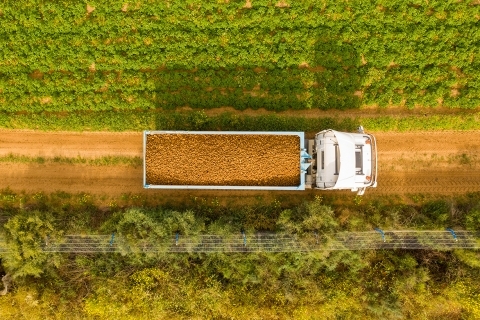 Chip potato movement from Michigan is expected to pick up this week. The crop is in good condition and early yields are average to a little above average. Growers have started harvesting chip potatoes in Ohio and Pennsylvania. Wisconsin's chip potato harvest is getting underway next week. Harvest is continuing in Virginia. Chip potato harvest is complete in Georgia and winding down in Florida. Movement picked up last week from the mid-west reporting states, which includes Illinois, Indiana, Iowa, and South Dakota. The chip potato market is quiet. Our sources indicate that manufacturers may be struggling with labor issues in addition to transportation problems.
Test digs in the PNW suggest that the extreme heat may be taking the top off of yields. Harvest is ramping up in the Columbia Basin where initial reports indicate that the early potatoes look good. After last year's devastating drought, Maine growers have had some of the best growing conditions in years.    
US packers shipped 1.452 million cwt of table potatoes during the week ending July 31, 2021. That is down from 1.481 million cwt a year earlier. Michigan packers shipped 4,300 cwt of table potatoes during the week ending July 31, 2021. There were no reported table potato shipments a year ago. Michigan's shipments last week were all Russet potatoes.
USDA has discontinued reporting Wisconsin prices for the 2020 potato crop. The weighted average shipping point price for Idaho Russet Burbanks is $17.11 per cwt, up from $16.52 per cwt last week. USDA has discontinued reporting prices for Virginia potatoes as the harvest winds down in that state.