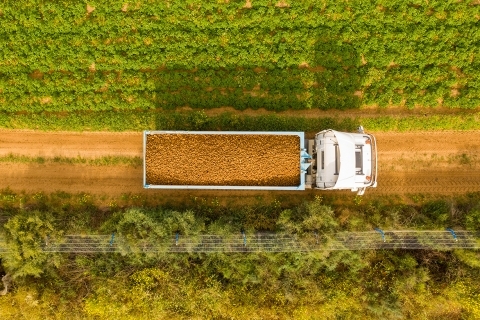 Parts of Mid-Michigan have received more than 15 inches of rain since June 25. Growers in that area have not had to irrigate since the rain began. They have been busy spraying and re-applying fertilizer. Some low-lying areas have been drowned out. Temperatures have not been overly hot, but there has been some smoke cover from forest fires in Canada. Southwest Michigan has not received nearly as much rain.
In general, U.S. potato crops appear to be in good condition. Growing conditions have been mostly favorable across the country during July. Growers in the Columbia Basin have started digging early varieties.
At 4,500 cwt, Michigan's July chip potato shipments fell 34,800 cwt short of 2022 movement. At 9.37 million cwt, the state's total chipstock movement for the August 2022-July 2023 season fell 910,000 cwt short of year-earlier shipments, an 8.9% decline.
July U.S. chip potato shipments exceeded 2022 movement by 3.2%. At 6.12 million cwt, that is 192,000 cwt more than the industry shipped a year earlier. July 2023 movement was the largest on record, even though USDA has not yet reported 2023 shipments from Ohio. Strong shipments from North Carolina (+483,000 cwt) and the Southwest region (+201,000 cwt) were the largest factors in the increase. The West Coast region (+76,000 cwt), Wisconsin (+30,000 cwt), and Florida (+24,000 cwt) also posted increased movement during July. In contrast, July chip potato shipments were down from the Mid-Central region (-99,000 cwt), and Virginia (-63.000 cwt). US chip potato shipments for the August 2022-July 2023 season totaled 45.46 million cwt. That fell 2.67 million cwt short of year-earlier movement, a 4.7% decline.
U.S. packers shipped 1.223 million cwt of table potatoes during the week ending July 29. That is up from 1.165 million cwt shipped a year earlier. There were no reported table potato shipments from Michigan during the week ending July 29, 2023. Shipments totaled 29,000 cwt during the same week in 2022.
The USDA discontinued reporting prices for Wisconsin, as the state's storage potatoes have been cleaned up. The weighted average shipping point price for Idaho Russet Burbanks is $38.80 per cwt. That is down from $39.89 per cwt a week ago.
Virginia packers are selling 50-pound sacks of size A round white potatoes for $20 per sack, down from $21 per sack last week. They are selling 50-pound round white chefs for $26 per bag, unchanged from a week ago.
– Report by North American Potato Market News