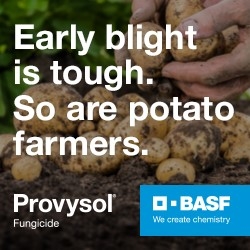 BASF has the expertise, insights and solutions to protect your potato investment from start to finish — and help you get the most out of every acre. No matter what challenges you face, higher yield potentials and the highest possible quality are within your reach.
ProvysolTM fungicide is a revolutionary disease management tool that

quickly penetrates plants for fast, long-lasting control. Designed specifically for low-growing plants that can be excellent hosts for diseases, Provysol fungicide can be a foundational application in your fungicide spray program, delivering early protection that sets up the rest of the program for long-lasting control and long-lasting success.

 
Endura® fungicide is a preventative fungicide that offers premier control of white mold and other foliar diseases, including early blight

— 

and suppression of gray mold.
Talk to your BASF representative or authorized retailer or click here to help your potatoes reach their most profitable potential. 
{Sponsored Content}